Dudu Articles




How e-Books can teach your autistic child to read – without a struggle

Dr Chung Tzemin, Education Scientist,
CommonTown Pte Ltd

27 May 2019






Your son has autism and every time he picks up a book, he ends up slouching in his chair with boredom because he doesn't find it rewarding.
You've asked his teacher for help and she has tried her best to get him to start reading short books. But in a classroom where there are children with mixed abilities, she's already struggling to teach him.
Or your daughter is high on the autistic spectrum. You know she's bright and you may have even devoted 30 minutes a day to helping her read.
But she takes one look at the books for younger children that match her reading age, shakes her head and says: 'No more baby books!' Finally your child may actually do well in class, but they get distracted easily and when it comes to reading, their learning is slow.
When you've tried everything to help your child read
You know your son or daughter is smart and wants to learn, but perhaps they get really frustrated when it comes to reading. And you may have already tried everything to help your children, from using flash cards to playing word games.
The irony is that your child can probably type his or her own name into the computer, especially if it's to get an app that they want. Worse still they may have absolutely no problems recognizing words like Minecraft, Fortnite or zombie!
Perhaps you've even found yourself typing into search engines: 'How do I teach my autistic child to read?'
Then one day he devoured one book after another
Recently a teacher got in touch with Dudu , to tell us how one of her pupils with autism struggled with reading and was unable to learn much in class at all.

Then one day she introduced him to interactive e-books and she was amazed when he suddenly started devouring one e-book after another! Not only was she surprised when he began reading so many stories, as an added bonus he became much more confident reading Chinese.
Parents have also seen similar results , with their children rushing to laptops, tablets or computers after school to read fun and interesting e-books online. So why do e-books grab the attention of some autistic children and make them click on the next book then the next?
Every Child with autism is different
Your child may share some traits in common with other children with autism, such as feeling frustrated, over stimulated or struggling to communicate. However as 1 in160 children worldwide has an autism spectrum disorder (ASD), parents and teachers already know that no two children with autism are alike.

There is no one way to teach children with autism and reading difficulties, but thankfully technology is now available to help meet some of the challenges that autistic children face in the classroom and at home.
So how can you use e-books to teach your autistic child to read, without further increasing their frustration or overstimulating them? We'll show you how using e-books will not only help your child read and comprehend more, but also learn to love reading too.
How to use e-books to suit your child's needs
You know how important it is to use technology that best meets your family and child's specific needs. But how can you use e-books in ways that help?
1. Read books together with your child as early as possible.
The sooner you start reading to your autistic son or daughter, the easier it will be for them to become familiar with books and help nurture their love of reading.
2. Use electronic devices such as an iPad or E-readers
Parents of children with autism sometimes remark how much their son or daughter loves their Kindle or iPad. It's because these tools not only cause your child less frustration, but also respond predictably to their spoken or typed commands.
A tablet or smartphone can also help children with ASD communicate through speaking, listening and writing, with plenty of apps available to help them with reading comprehension. And there are even educational, behavioural and entertainment apps that are specifically recommended for children with autism .
3. Use headphones with electronic devices.
Some of the biggest issues with teaching reading to autistic children are dealing with distractions. One way to limit disturbances, such as a ticking clock or a humming fridge, is to have your child read an e-book either on a computer or electronic device with headphones.
And as many eReaders and devices come with a read aloud feature, text can be read in a voice that is volume-controlled. For example, Dudu's readers often tell us that they love listening to our stories, because they are soothed by the calm tones of the narrator's voice.
Some e-book readers also turn pages automatically, so that your autistic child doesn't have to fumble with paper- especially if they have issues with fine motor skills. Nor do they have to listen to the painful scratch of paper as pages brush against each other.
E-books are ideal for a multi-sensory learning approach
If your autistic son or daughter learns best through sight, then e-books with pictures are ideal. The best books show characters in action and have a story that moves forward, which will help your child associate written words with objects and actions.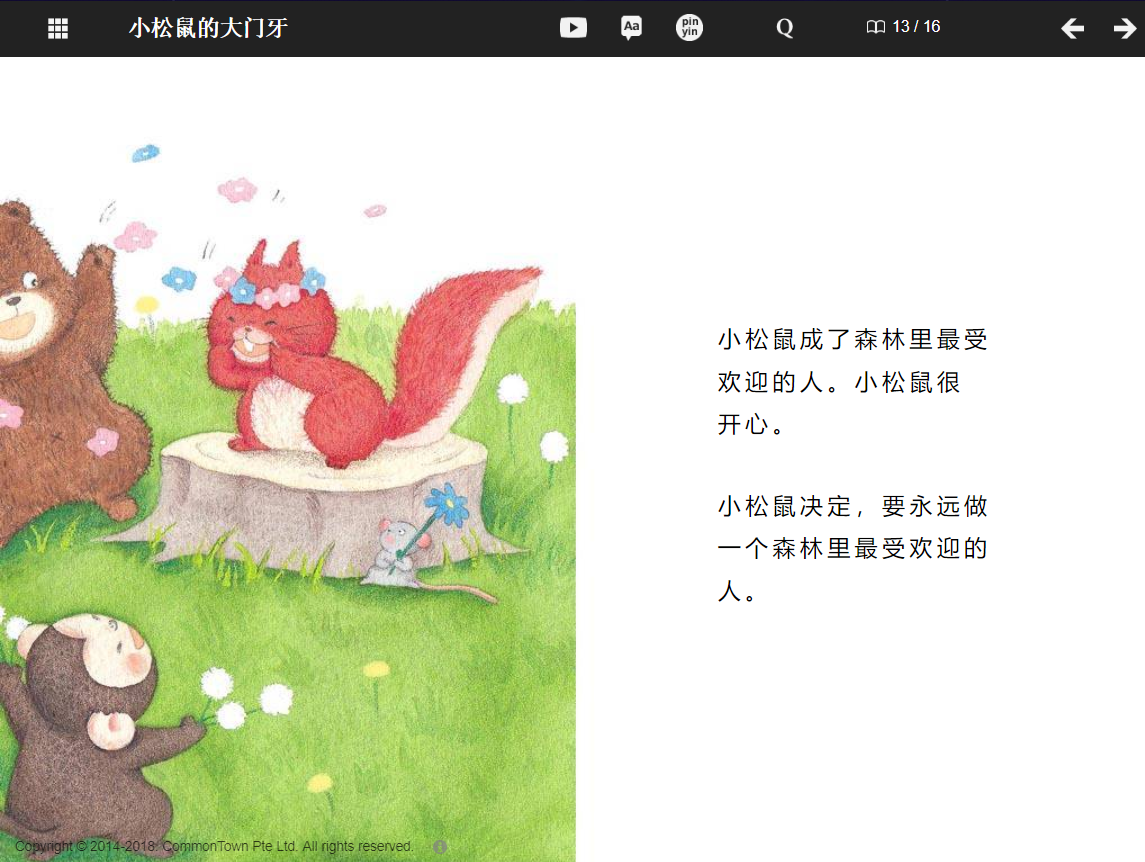 Dudu e-books are gently animated and beautifully illustrated.
However if you have a child who learns mainly through hearing, then interactive e-books that use sound can help them learn to say words independently.
And many e-books like Dudu's often come with beautiful illustrations that are not only gently animated, but have no violent splashes of colour or distracting images in sidebars.
So how do I find stories that best match my child's reading ability?
You can download e-books from a variety of app stores, but finding books for autistic children that match your child's reading ability can be tricky. Your son or daughter may find the stories too hard, or unsuitable for their reading age and lose further interest in reading.
This is where Dudu's e-books are different. This interactive program can assess your child's Chinese reading level with a series of fun reading comprehension quizzes, then will recommend appropriate books based on their language ability.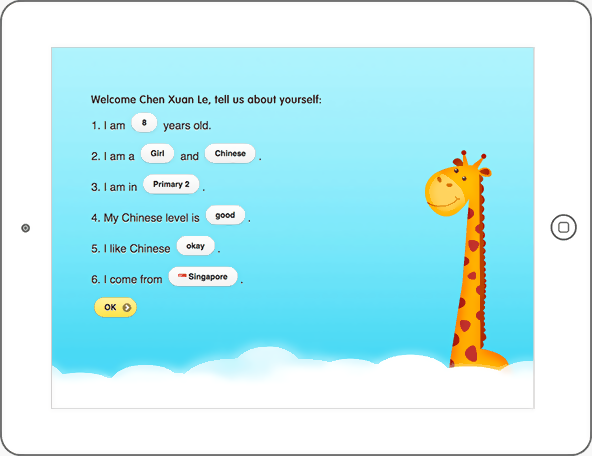 Dudu assesses your child's reading level with a series of fun quizzes.
But my child struggles to read English let alone Chinese!
Well recent research shows that bilingual autistic children are able to switch between tasks more easily than monolingual children with ASD . And learning multiple languages may help children with autism feel less alienated in families who speak more than one language in the home .
And as Dudu has hundreds of interesting e-books with games and awards, your child is more likely to feel that they are succeeding quickly and is less prone to get frustrated and bored.
Simply login to a gently interactive and predictable online program that can help your child read more than 1-2 books a week.
Lastly, if you know a teacher who teaches reading to autistic children and is looking for new methods to help, then let her know that Dudu is easy to try out . And maybe she will also be amazed when her pupils start reading book after enjoyable book!
So what is your biggest struggle with getting your child with autism to read?
Please let us know in the comments below, because we 'd love to share your thoughts with others.