Dudu Articles




Looking for a way to engage your child while coping with work at home?

CommonTown

20 April 2020



Parents, are you looking for something more to engage your child? Sometimes you may have to work from home and still struggle to give time to your energetic child as well.
Now with Dudu books, you can easily engage your child and what's more, transform them into a critical and creative thinker!
Dudu books incorporate the Dialogic Reading Technique (Dialogic Prompts) to encourage children to talk about the illustrations, recall events, retell the story and what's more importantly, relate these conversations to their own life experience.
These activities enable them to develop deep understanding of vocabulary, conceptual knowledge, and thinking skills. These are essential skills for formal schooling.
You can develop your child easily by simply incorporating FIVE types of easy to apply prompts in read alongs with your child. Just remember CROWD!
1. Completion prompts
A quick fill-in-the-blank technique to prompt your child for right answers.
(e.g., "During the school work holidays, who visited granny.")
2. Recall prompts
A reliable approach to help your child recall the details of the story.
(e.g., "What was granny doing in the kitchen?")
3. Open-ended questions
An effective way to let your child express their thoughts in their own words.
(e.g., What do you see in this picture?")
4. Wh- prompts: What, Where, Why questions
A fail-safe method to develop deeper understanding of words and concepts.
(e.g., Why was granny crying?")
5. Distancing prompts
Reading experts' favorite practice to help children develop new concepts by linking new ideas in stories to incidents in their lives.
(e.g., What will you do if you are with granny?")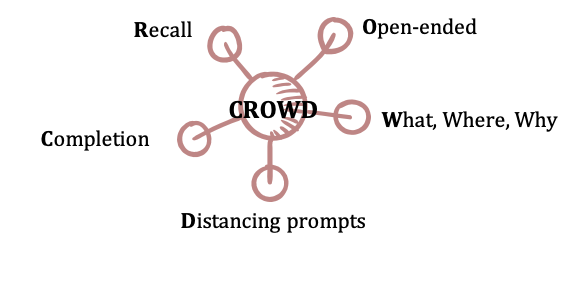 Through these promptings, your child will grow in critical thinking and imagination. Come, let's give this CROWD approach a try!
Download
one of our ebooks which has dialogic questions on every page to kickstart these five types of prompts with your child. You will also get a
fun craft activity
specifically linked to this book.
Or, you can click
here
to watch our Dudu ebook with audio narration and dialogic questions.
Enjoy a great parent-child bonding time!